WordPress 5.0 is officially out. WordPress is the editor and backend system that I use for all my websites that I build and maintain. The latest was released on December 6 with many new features including a new editor and blocks(parts of the posts/articles).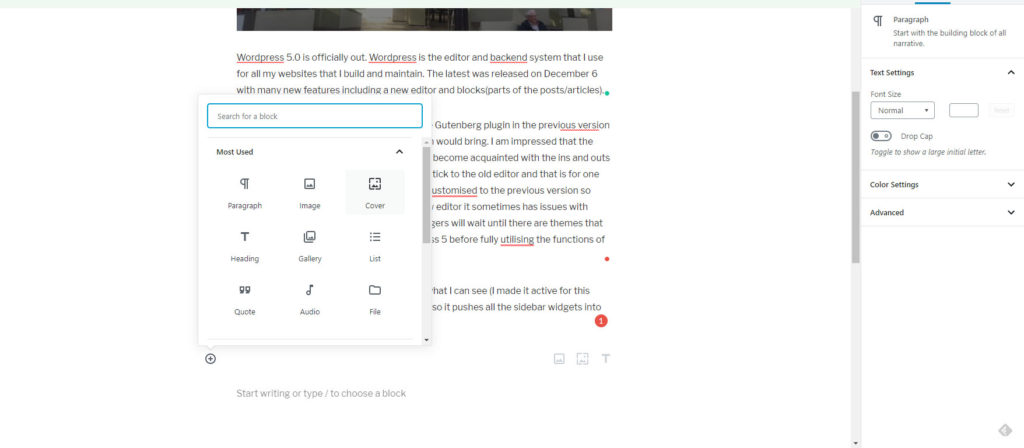 I have trialed the new WordPress by using the Gutenberg plugin in the previous version of WordPress, so I knew what the new version would bring. I am impressed that the interface is clean but it will take some time to become acquainted with the ins and outs of the new editor. I quickly adapted to the Editor as it felt similar to the UI and workflow of Medium and a Email Service (Aweber/MailChimp)
New tools in the Editor includes the ability to insert blocks and move them up and down the post (similar to Medium/Aweber/MailChimp) which is great as previously, it was tedious importing/uploading the images, inserting and then moving the images around then formatting the which sometimes never quite working. The new editor is easy to use with the adding blocks or just tapping enter twice for new block/paragraph.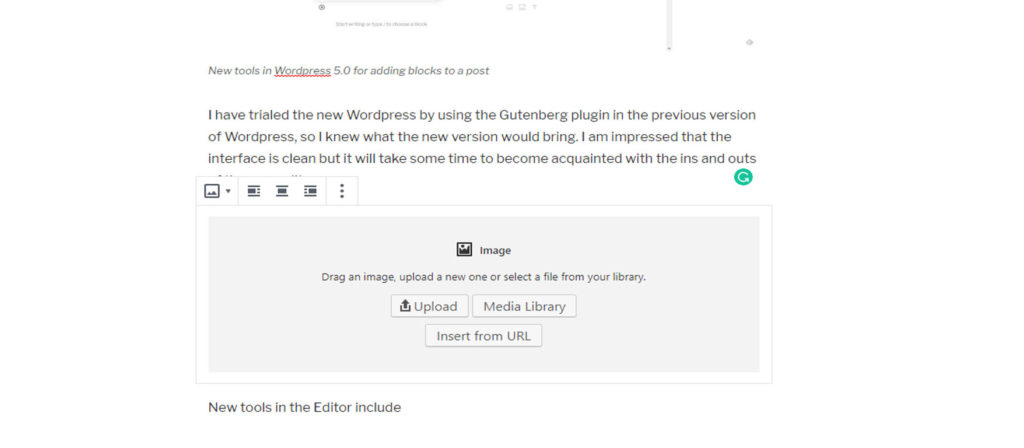 ***TIP – Recently learnt that the best way to insert multiple images in WordPress 5 is to insert a gallery through media library and then convert to images using the block configuration menu (3 dots in top right of a block)
For some of my sites, I will stick to the old editor and that is for one reason, the themes that I use are based and customised to the previous version so when you create a new post/article in the new editor it sometimes has issues with sizing images and text. I think that many bloggers will wait until there are themes that have been tested and optimised for WordPress 5 before fully utilising the functions of the update tools and blocks. I am going to trail and test WordPress 5 on this blog to see how I best utilise the new functions/tools and editing style, I am hoping that it will actually speed up my workflows.
Overall the layout and the way that the UI works is very reminiscent of Medium and a Email Service (Aweber/MailChimp) in terms of the adding a cover image, title and then clicking a plus to add elements and also moving around blocks(similar to Email Service).
There is also the new Twenty-Nineteen theme from what I can see (I made it active for this website) doesn't have a sidebar only a footer, so it pushes all the sidebar widgets into the footer.